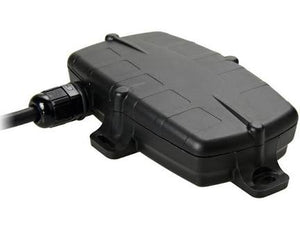 Axis AVT3 gps tracker 4g not 3g
Regular price $362.00 Sale
THIS IS A SUBSCRIPTION BASED UNIT THROUGH A THIRD PARTY COMPANY WHO SPECIALIZES IN MONITORING. $24pm is the required fee
AXIS – AVT3 WIRELESS WEATHERPROOF GPS TRACKING DEVICE
NETWORK
Network Type: 4G LTE

Cellular Antenna: Internal

APN: Auto APN Details Preloaded
GPS
GPS Antenna: Internal

GPS Tracking: High Sensitivity with 72CH GLONASS

GPS Amplifier: Low Noise GPS Signal Booster (LNA)
SMART TECHNOLOGY
Accident Detect:
Built in accelerometer detects high G-force impact in accidents or rollovers.

Reports the event to the server for emergency alerting.
Ignition Detect:
Wired ignition voltage on/off. Emulated ignition with GPS movement.

Run detection when voltage increase
Accident Data:
Stores second by second recording of GPS & accelerometer data for 2 hour window.

Data can be uploaded to the server when an accident is detected or can be done manually by request.
Logging Parameters Can be configured to log information based on the following parameters:
Harsh driving (accelerometer)

Distance travelled

Change of direction

Change of speed

Time elapsed

On but stationary
Harsh Driving using the 3-axis accelerometer to detect:
Excessive acceleration

Cornering speed

Harsh braking
TXT Setup:
Remote setup of the APN server and other details via TXT
GEO-FENCING
Capacity to remotely set & store hundreds of geo-fencing:
No Go & Keep out areas

Arrival & Departure alerts

Automatic Output Controls. e.g. switch on hazard lights

Speeding Zones with Audible Alert
Recovery Mode:
Can be remotely switched to live tracking and reporting mode
Adaptive Tracking:
Can be set to use accelerometer and GPS data to intelligently sense if the vehicle is moving and send updates.
Data Security:
Includes bank-level AES-256 authentication & data encryption
Battery Status:
INPUTS & OUTPUTS
Digital Inputs:
1 x Ignition (permanent internal pull down 0-50V)

2 x Digital (configurable internal pull down 0-50V)

Analogue Inputs:

1 × 0-30V (shared with Digital input. i.e. only one can be used at a time)

iButton:

1 Wire iButton reader for Driver-ID

Digital Outputs:

1 x Switched Ground, ideal for external lights, relays, buzzers etc. (shared with Analogue input. i.e. only one can be used at a time)
BACKUP
Off Line: Assist Now Offline data aid & extremely fast performance

Memory: Internal with over 50,000 records while off line. Up to 14 days of memory storage.

Battery: 1100mAh LiPo
POWER
Vehicle: 8-36V DC

Fuse: Self Re-setting Fuse. Passes stringent automotive power "load dump" tests
GENERAL
Operating Temperature: -20° to +60°C

Harness: 7 Wire

Dimensions: 125L x 80W x 25H mm