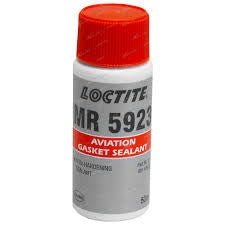 Loctite MR 5923 Aviation Gasket Non-Hardening Sealant 50ml
Loctite 3JA Aviation Gasket Sealant 50ml
Loctite 3JA Aviation Gasket Sealant
Specifications
| | |
| --- | --- |
| Model # | 3J-50ML-PERMATE |
| Barcode # | 9310743000795 |
| Type | Flange Sealant |
| Appearance | Dark Reddish Brown |
| Size | 50ml |
| Temperature Range | -55 to 204 °C |
Description
Loctite Aviation Gasket Sealant No. 3.
This is a dark reddish-brown, viscous liquid with a characteristic alcoholic odor.
It is a slow drying liquid that changes to a pliable, tacky film through solvent evaporation.
It seals close-fitting parts, machined surfaces and threaded connections in industrial, aircraft, and marine applications.
Applications:
For use on close-fitting machined surfaces, threaded connections, aviation engines, and marine engines.
Suitable for close-fitting machined surfaces, sealing of hoses and dressing solid gaskets.
Features/Benefits:
Resists petrol, oil, grease and ethylene glycol
Slow drying, non-hardening brush top sealant
Temperature range: -54 DegreeCelsius to 200 Degree Celsius
Approved for use in aviation as well as automotive industries