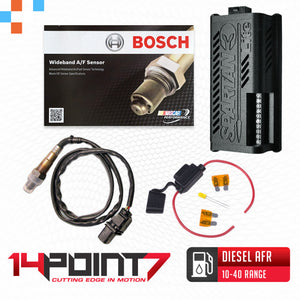 14 in 1 Spartan 3D lite diesel wideband controller and Bosch 4.9 Oxygen Sensor
Regular price $194.00 Sale
Many of our Diesel customers that own our JRP 14in1 multi gauge have asked for it, and now we have delivered, we are proud to introduce the Spartan 3D Lite Diesel wideband controller, this package is designed to be used in conjunction with our JRP 14in1 multi gauge systems. This powerful little wideband will allow customers with Diesel motors to read their air fuel ratios on our multi gauge systems with an expanded AFR range that is required for Diesel motors, most wideband products in the market have an AFR range that is too narrow to be used for Diesel tuning, the majority of wideband controllers out there have a range of around 10-20 AFR which is fine for petrol applications but not Diesel, this Spartan 3D Lite has been configured to have a range of 10-40 AFR which is perfect for Diesels.
If you are looking to buy one of our 14in1 multi gauge systems and are running it on a Diesel motor and would like to take your tuning to a finer level over just using EGT, then buying one of these Spartan 3D Lite Diesel wideband controllers to connect to our multi gauge systems will then give you an air fuel ratio readout displaying on the 14in1 screen. Note we also do sell standalone Diesel wideband kits for those just looking for a Diesel wideband and don't plan on getting our 14in1 multi gauge setup, we have kits that include this Spartan 3D Lite diesel wideband controller & Bosch 02 sensor along with our 52mm Edge LCD air fuel ratio gauge if you are only looking for a product to monitor your air fuel ratios on Diesels.
We go into detail below about the great features and quality you can expect when buying one of 14point7's wideband controllers, and some specifics for the Spartan 3D Lite Diesel wideband itself. We have been the official distributors for 14poiint7 down here in Australia for years now and have thousands of their Spartan 2 widebands out in vehicles for that time, one thing that has been prevalent throughout our time selling their wideband products and that is they are bullet proof, we can honestly count on our hands how many units have been DOA or become faulty over the years, that itself is a testament to the build quality of the units along with their quality control processes and overall design & engineering from 14Point7. The Spartan 3D Lite diesel wideband is no different, you can expect a tough, reliable and well-built product to last the test of time. So, without any further ado, checkout the information below to learn more about these terrific little diesel wideband controllers which are the perfect companions to our 14in1 multi gauge systems to take your Diesel tuning to the next level.