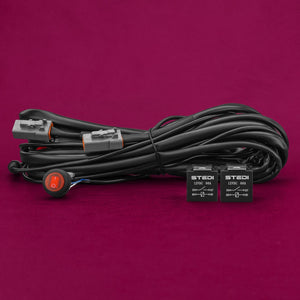 Stedi smart wiring harness for driving lights or spot lights
Regular price $47.00 Sale
THE DEVIL IS IN THE DETAILS.
While others claim to be 'universally compatible' with both positive and negative switched vehicles, it doesn't take long to see that this is not the case. The STEDI SMART Harness™ is unique, in that it has a built-in microprocessor which deals with even the most complex vehicle wiring systems. Our aim was to create a stress-free installation process, with peace of mind of knowing it will all come together in the end.
BRIDGING THE GAP.

Whether your driving lights use the popular DT or DTP connectors, our SMART Harness™ caters for both by providing a cross-compatibility platform that will lay any confusion to rest. Dual output allows for running anything from a single to dual slim LED Lightbar to a set of high-performance LED Spot Lights like our STEDI Type-X.   
ADR COMPLIANT.
100% Plug & Play, no splicing or grafting required, our SMART Harness™ will install straight to your vehicle hassle-free triggering straight from your vehicle's high beam. With an all-new waterproof switch for open cabin application, included HB3 + H4 Piggy Back adaptors fitting most vehicles factory headlights with H1, H7 & H9 also available; this is your all-in-one wiring solution.  
THE NITTY
GRITTY.
Dual Relay / Dual Output Quick Fit SMART Harness™ | Our all-in-one wiring loom
Our all-new Plug & Play SMART Harness™ for Quick Fit installation of your driving lights. Incredible High Current 10AWG cable, negative switch compatible, waterproof switch & DTP to DT Reducers bridging the compatibility between the two connector types. Our SMART Harness™ has been designed around the consumer to simplify the installation process.
The supplied HB3 and H4 Adapters trigger your driving lights from your high beam without cutting or soldering any wiring. Simply unplug your HB3 or H4 connector at the back of your headlight's bulb, plug in our adapter, and you're done! Driving lights will only trigger from a high beam, and the switch will act solely as an isolator.
Our new SMART Harness™ has a built-in microprocessor that automatically detects whether your system is positive or negative switched, and will work right out of the box without any modification whatsoever. Toyota's, Ford Ranger, Mazda BT50 among many other popular 4x4 are notorious for being very difficult and costly to wire driving lights to high beam, our quick fit harness takes all the guesswork out of it.
It contains everything you need to get your lights connected: ON/OFF Switch, 60A Relay, 35A Fuse, ribbed cable protectors, heat shrink wrapped relay, DTP to DT Reducers.
Featuring a total of 4.8 meters of wiring (full stretched out)
2.4m of cabling from Relay to Switch
2.0m of cabling from Driving Light connector to Relay
2.0m from H4 or HB3 Adapter to Relay
Total cable length 6.4m
2 x 12vDC 35A Rated Fuse Kit
2 x 12vDC 60A Switching Relay
Push Button ON/OFF Switch
UV Rated Insulation
Instruction included.
HB3 & H4 are the most common wiring connectors found in most popular makes and models. If your car does not use H4 or HB3, this wiring harness can still be used to connect to a high beam. We also sell separately H1, H9 & H7, as well as vehicle-specific adaptors for the Amarok, 200 series Landcruiser, MQ & MR Triton, Isuzu M-UX / D-Max, Ranger / Raptor PX2 & PX3 7 Holden Colorado. 
TECH SPECS
| | |
| --- | --- |
| WIRING RATING | 12vDC 35A |
| RELAY RATING | 12vDC 60A |
| FUSE | 35A |
| CONNECTOR | DT & DTP |
| INSTRUCTIONS | Included |
| MAX LOAD | 35A @12v |
| INCLUDED PIGGYBACK | HB3 & H4 |
WHAT'S INCLUDED
1 x STEDI 

SMART Harness

™

Dual Output with DTP connector
DTP to DT Reducers
HB3 + H4 Piggy Back Adaptors
Waterproof Switch
Instruction Leaflet