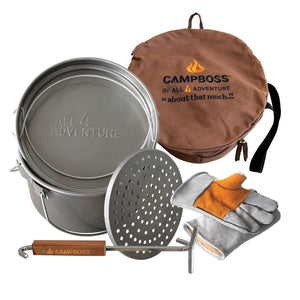 Campboss Ultimate Camp Cooking Bundle
Regular price $109.00 Sale
Ultimate cooking bundle includes:

1 x 12-inch spun steel camp oven
1 x Trivet
1 x Canvas storage bag

1 x Lifting handle
1 x Pair heavy-duty gloves
Your CampBoss Camp Oven needs to be broken in or 'seasoned'.
BEFORE FIRST USE – Wash the camp oven thoroughly with warm soapy water and then dry thoroughly with clean paper towel before starting the seasoning process.
SEASONING
1. Coat paper towel in cooking oil or cooking fat and wipe all the surfaces of the camp oven, lid and trivet
2. With a clean paper towel, wipe off excess cooking oil or cooking fat.
3. Place camp oven into BBQ with lid and close lid. If you don't have a lid on your BBQ, just place BBQ on grill. A conventional oven or camp fire coals can be used as well (Jase says be careful doing it in the oven as the smoke detectors may go off!)
4. Heat until camp oven is nice and hot, just starting to smoke.
5. Remove from the heat and before it cools completely, wipe off all excess oil on the inside of the camp oven with clean paper towels.
Australian Made